So I'm working on costuming for the RenFest. I've decided I need more skirts (cause why not).
I love circle skirts. There is something about the way they flair when I'm dancing. To this end, I developed a circle skirt pattern. I doubt I'm the first one to come up with the same pattern, but I did it on my own, using math and stuff. So my nerd is pleased.
I've had other people ask for the pattern, so I'm sharing it here with all of you.
First, we need the radius to measure how far down to cut the fabric…
2πr = C
Solve for r.
The circumference is the measure of your waist.
Example: Waist is 30 inches.
2πr = 30
2πr/π = 30/π
2r = 9.5 (rounded)
2r/2 = 9.5/2
r = 4.75
Radius = 4 3/4 inches
Once you figure out the radius, add the radius to your desired skirt length for "total". So if we want a skirt that is 28 inches from the waist:
R + l = total
4 3/4 + 28 = 32 3/4
Total = 32 3/4 inches
Yes, I loved word problems as a kid. Don't judge.
So, the two measurements you need to remember are:
Radius = 4 3/4 inches
Total = 32 3/4 inches
Take your fabric, and if you're cutting from one piece, fold it into 4′s. If two pieces, put one on top of the other, and fold in half. Along the fold starting at the top, measure Total. Mark that point with chalk. Holding the measuring tape in place at the top of the fold, and keeping the the tape taught, use the chalk to draw a quarter circle across the fabric up to the other fold/edge of the fabric (you are basically drawing a quarter circle with a very large measuring tape compass). This is your hemline.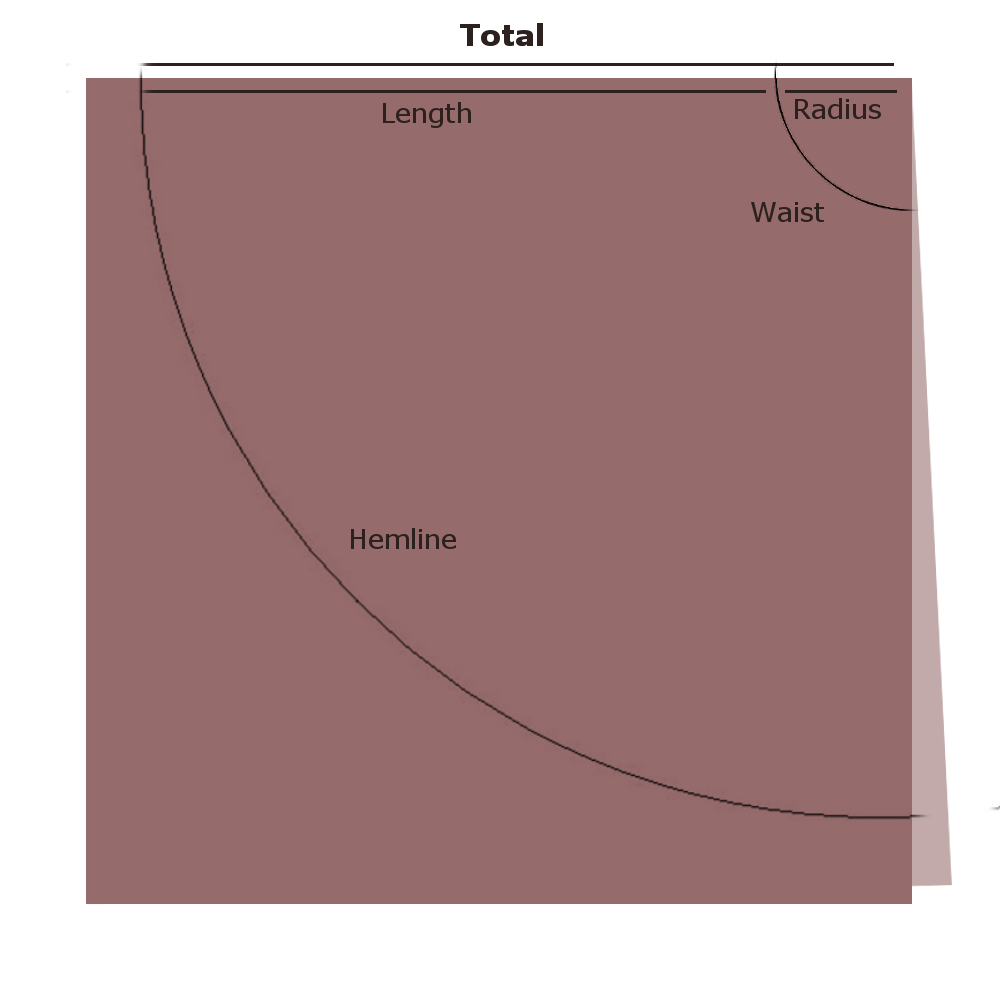 Measure again from the top of the fold, but this time, just the radius. Again, keeping the measuring tape in place at the top corner and keeping the tape taught, draw a circle from the fold to the other fold/fabric edge. This is your waist.
I usually just guess how far down to make the opening so it will fit over the hips, though you can measure waist to larges point around your butt/hips and do it that way.
Hem the bottom, put in a zipper or panel, and add a waist band. If you want an elastic waist band, the starting circumference should be the biggest part of your hips plus 2 inches.